Commute Times are on the Rise!
You spend far too much time commuting. Take deliberate steps to change your career trajectory while you are stuck in traffic! According to the 2012-2016 American Community Survey 5-year estimates, the average time commuters spend during their morning or evening commute is 26.1minutes and rising.  The definition of a "commuter" is anyone who does not work at home. In some highly populated areas, the average commute times are as high as 40+ minutes.
This means there are a LOT of people who commute for a much longer time. Also, in some cities, up to 31% of their population commutes via public transportation.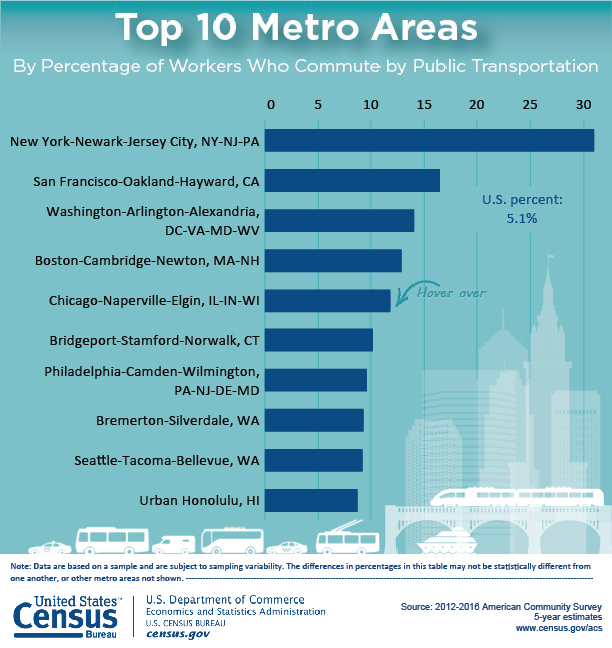 There is another category:  Super Commuters.  Super Commuters spend 90 minutes or more, each way, commuting to work.  In many cases, these people will rent a very cheap room or studio apartment near their workplace and stay overnight during the work week.  According to a Zillow Study in 2015, commute times for higher-income earners hasn't changed too much over the past 10 years, but commute times are getting longer and longer for low-income workers. This is primarily because affordable housing is getting pushed farther out from high economic centers or job locations.
The most important thing all of this data is telling me is that there is a very high chance that you are spending up to 10% of your waking hours commuting to and from work.
You Could Improve The Time You Spend In Traffic
Here are some ways you could reduce your commuting time:
Move closer to work
Change jobs
Work out a flex-time schedule with your company
Telecommuting
Become an entrepreneur and start your own at home business
Finding a new way to commute: One idea is incorporating exercise such as walking or biking. This will have a twofold impact by making your commute more enjoyable.  Increased activity increases productivity during the day.
While all of these options may offer some relief, the reality is that many of you will continue to be commuters.  If this is you, it is important to come to terms with that and set out to find ways to make it a much more enjoyable experience. Begin to look at it as an opportunity. Use your commute as a one of the tools in your transformation to who you want to be two, five, or ten years from now.
Women are Typically More Impacted Than Men by Their Commutes
The reality is that women, especially driven women, are much more impacted by their commute than most men are. Your commute does cause stress and drives health related concerns. This is brought on by the continuing imbalance in home-related responsibilities. Traditional women's roles involve driving the kids to and from school or daycare, purchasing groceries, dry cleaning drop-offs, and after school events.  What this leads to is a woman driving kids to school in the morning, commuting to work, after work, she commutes back to her community.  She then picks up the children from daycare, goes to the grocery store, stops to get the dry cleaning, and then runs off to soccer practice, dance classes, or piano lessonsWork and after school activities are time-based events.
The schedule causes the stress of arriving on time.  When time is a critical factor, traffic or other unexpected obstacles may hinder your progress.  The constant go-go-go with no time to catch your breath, significantly increases your stress.  The impact of constant stress on our health is discussed every day in the news.
A Day in the Life of a Woman Who Commutes
"Developments in the Measurement of Subjective Well-Being," published in the Winter 2006 edition of the Journal of Economic Perspectives, studied a day in the life of 909 employed women in Texas. In a survey, they asked these women questions about how much they enjoyed various types of activities. The results show a list of 19 activities. The number one MOST enjoyable activity was "intimate relations" and number 19 was the morning commute.  Number 18 was actually working, and number 17 was the evening commute.
So, we get it – you hate commuting. It is nothing but a stressful drain on your time.  There are so many other ways you'd like to use that time if you could get out of your car, off the bus, or off the subway.
How to increase your commuting pleasure
There are a couple of important components to increasing how you feel about your commute:  Autonomy (a feeling a freedom) and how connected you feel while commuting.
Autonomy:  A Harvard Business Review article, "Reclaim your commute" recommended to "focus on what you can control: how you spend your time during the trip."  Planning and rituals are important, "but think also about activities that you enjoy, such as listening to music, catching up on podcasts, or reading books." The same article went on to discuss that if you can control certain aspects, such as when you choose to commute or how you spend time commuting may will correlate to greater well-being and increased satisfaction.
Feeling Connected while commuting: One way to increase the feeling of being connected is by using Waze or other traffic applications. "Wave specifically enables commuters to share real-time user-generated travel information such as traffic jams, police, accident, hazard, chit chat, and other."  Waze will reroute you if a better route is found while you are in transit. According to a 2015 Zillow.com research study about commuting, they found that Waze significantly increases the level of positive emotion expressed by commuters. This function has great potential in terms of facilitating a more enjoyable commute. Waze allows for voice commands and other tools that can help guard against distracted driving.
How you can directly impact your success at work with simple improvements in how you spend your time while you are commuting:
In  "Commuting as Role Transitions" (Jachimowicz and  Lee), they found  "people with higher degrees of self-control use their commute to more effectively transition from their home to their work role.  These people are consequently less adversely affected by the commuting experience."  The opposite is also true; people with low self-control are negatively affected by their commutes.
They discussed Macro Role transitions, such as a career change and a new job or moving to a new city.  Where you have to adapt to a big change.  They discussed how commuting is a "Micro Role transition," because you have to transition from being mom to your professional role at work.  The way you behave as a mom, packing lunch, hugs and kisses, and talking to the teacher is much different from the way you interact with colleagues once you transition to work.
What this means is that you have the time from when you leave the kids, or your home if you have no kids, to the time you step into your office to make your own role transition.  This will mean something different for each of you, as you think about your home lives and the type of career you are currently in.  The good news is that the longer you commute, the more time you have to transition.  (Hey – we have to try to find a bright side to all this commuting!)
Ignite Your Productivity With the Use of Prospection
Jachimowicz and Lee, found that if we prod commuters to think through their days while in transit, they will be more satisfied with their jobs. They discussed the idea of "Prospection," which is the representation of possible futures, and is an abundant feature of the human mind.  "Set aside a few minutes during commuting for prospection."  This will turn a time period that many people  rate as their least desirable into a useful time period.  "This is a behavior that can be learned and adopted by employees regardless of their levels of self-control."
We know that planning your day and thinking of your desired outcomes and goals will improve your day while you are at work, but this is a bonus – if you think about it as you transition roles from home to work, it will also increase how much you enjoy your commute!
Drive yourself up the ladder of success with these tips and tools:
Planning your day – main goals, conversations you need to have
Use tools such as Apple's Siri or Google's voice assistant to go over your calendar.
Utilize tools such as Evernote's dictation feature to capture to-do's or ideas you have while you are driving.
Workflow applications can automate some of these tasks so you can accomplish them completely hands free.
Listen to Podcasts and audiobooks, these will allow you to drive while Learning new ideas or skills.
Brainstorm ideas on something that has been challenging you
Practice your introduction if you need to give a brief to a large group
Learn to speak a new language.
Clearing your head
Setting your mindset, one example is to make a playlist of music based on mood, energetic, motivational, driven, etc. I have an example of a "Genuine Driven Women" Playlist on Spotify that you may enjoy.
I know you will have those days were you just want to drive and listen to 80's hair bands.  We all need to relax and enjoy life too.  You spend way too much valuable time commuting. Take the time to plan for the better version of you.
Your future self will thank you for the time you spend today!
References:
Roberts, J., Hodgson, R., & Dolan, P. (2011). "It's driving her mad": Gender differences in the effects of commuting on psychological health. Journal of Health Economics, 30(5), 1064-1076.
New Cities Foundation (2012), Connected Commuting: Research and Analysis on the New Cities Foundation Task Force in San Jose, http://www.newcitiesfoundation.org/wp-content/uploads/ New-Cities-Foundation-Connected-Commuting-Full-Report.pdf
https://www.princeton.edu/~kahneman/docs/Publications/Development_DK_ABK_2006.pdf
SaveSave
SaveSave
SaveSave
SaveSave
SaveSave
SaveSave
SaveSave
SaveSave
SaveSave
SaveSave
SaveSave
SaveSave
SaveSave
SaveSave
SaveSave
SaveSave
SaveSave
SaveSave
SaveSave
SaveSave